Heart of Courage – True to Heart Trilogy Book 2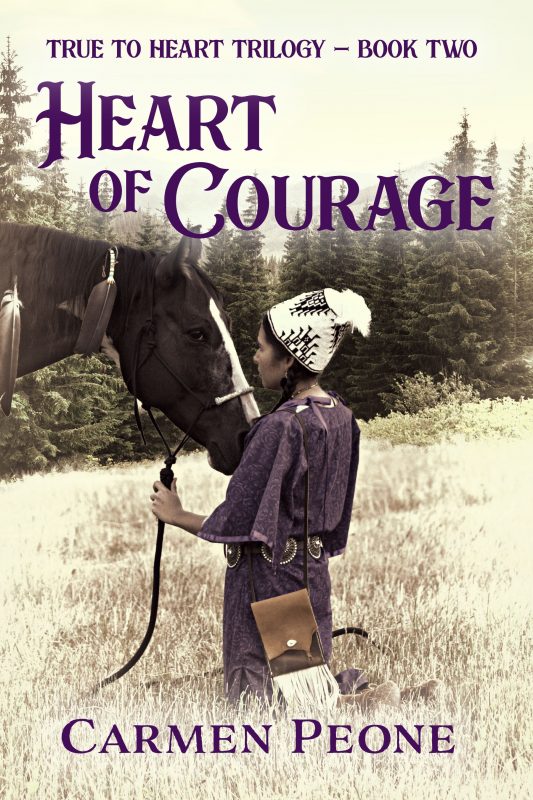 One Vision, Threatened by Tradition, Smothered by Fear, Revived By Courage
To view Heart of Courage's Curriculum click here.
To add Heart of Courage to your GoodReads to-read list and favorite book lists, click on the GoodReads button below.
About the Book
Spupaleena is a Sinyekst Indian, the only one brave enough to challenge tradition. Girls in her village are of the tender age to marry, but that is the last thing on her mind. Her dream is to race and raise horses in anticipation of selling them to Hudson's Bay Company's Fort Colvile in Washington Territory.
But her father has other plans and arranges for his daughter to care for a three-month-old baby whose mother is gravely ill in hopes she will settle down and behave like the rest of the maidens in their village.
Pregnant Elizabeth Gardner is torn between encouraging her Sinyekst friend's vision, knowing she possesses a raw talent, and convincing her closest friend to change dreams due to threats and incidents that impend her safety––even at the strain of their bond.
As friendships and family relations constrict, resentment turns into forgiveness, and fear turns into courage, one young maiden learns what it means to be truly depended on by another. This story from award-winning author Carmen Peone will grip your heart as you ride the rugged trails along the Columbia River into boundless Indian Country.
Praise for Heart of Courage
…an adventure of survival, culture, assimilated beliefs and horsemanship.
-Luanne Finley, Colville Tribal Descendant; Lifetime Reservation Rancher

Rich in culture and backdrop, the narrative is warm, engaging, and indeed breathtaking at times.  -Sue Jacobsen,  4-H Leader … Love of God, Love of horses, and desire to fulfill her own dreams of life.
-Rosalie J. Heath, Retired Educator
Other Books in "True to Heart Trilogy"