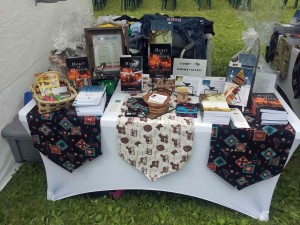 I have gathered a few tips to make book signings enjoyable and productive. I hope they help you in some way whether you are signing your treasured books at a book store, coffee house or local fair.
1. Make your display eye catching. Whether outside at a fair or indoor bazaar, your table needs to look neat and organized. If your book(s) have a theme, go with that. Mine is Historical Native American and include horse and horse racing. So I decorate my table with horse and Native prints as in the shown photograph.
2. Have giveaways: book marks, postcards, business cards, and anything with your logo on it. I have seen things like pencils and pens, golf tees, magnets. Use your imagination. Target your audience. I have so many grandmothers buy my books for their granddaughters since my trilogy is Young Adult.
3. A big and colorful banner or sign is a must. I have a banner with just my name, but will soon have one with a photo on it. I am currently debating on a horse or a traditional tule-mat tipi. I have also taken my book posters and have matted and framed them. They look amazing.
4. Capture emails two ways: I place a Native American basket on my front table for business cards and raffle tickets and almost always have a drawing for a basket of goodies that include one or all of my books in my Heart Trilogy. Another way to grasp those crucial emails is a sign-up sheet. I stress that the emails will never be shared in any way.
5. I have learned the more the better: I sell western/horse/Native American print pocket purses my mother sews (and a free one with the purchase of my trilogy); being an amateur photographer, I also sell photographs I take of Native Culture or Horses because that is what my books entail (the photographs also draw in the lookers); I had t-shirts printed up with the horse theme; when I can I bead jewelry and sell it with my books. The ideas are endless. Again, what is the theme of your book(s)?
6. When someone slows down to peek at my table I make eye contact and engage them in conversation. I ask them if they have young ladies or boys in their life, are interested in Native American culture or if they like horses and the 1800's.
7. I have also created pamphlets with the following information: my book covers, my picture, my bio, and why I wrote this particular trilogy. I hand them out and they are well received. The pamphlets seem personable to the potential readers and they can learn a tidbit about me and why I wrote the books, which is for my Native American son's, their culture and our faith.
8. I have learned to dress for my book signings as well. I am usually in my Daisy print cowboy boots and Native American jewelry. Visual is huge. I dress casual but nice and welcoming.
9. I do not allow food or drinks on my table. I think this is self explanatory.
10. I smile. It's simple. I smile and say hello and how are you. Kindness goes a long ways.
I wish you abundant success at your next book signing and that God blesses you richly.