What is a Cowgirl Attitude?
Welcome to the 2023 Inspirational Western Women series.
I'm excited for you to meet the featured gal for this month. She'll tell you all about what it means to have a cowgirl attitude! So sit back, sip a favorite beverage, and enjoy my writer friend . . .
Heidi M. Thomas
This is a paraphrase from Dale Evans, who went on to say, "Cowgirl is a pioneer spirit, a special American brand of courage. The cowgirl faces life head-on, lives by her own lights, and makes no excuses. Cowgirls take stands. They speak up. They defend the things they hold dear. A cowgirl might be a rancher, or a barrel racer, or a bull rider, or an actress. But she's just as likely to be a checker at the local Winn Dixie, a full-time mother, a banker, an attorney, or an astronaut."
Although I grew up on a ranch in eastern Montana, and I rode horses (my horse was a red roan named Strawberry), gathered cattle with my dad, and helped with branding, I never really thought of myself as a "cowgirl." But through my years of reading and researching for my books, I've come to realize that I am—maybe an "urban cowgirl" now by strict definition, but a cowgirl by attitude.
I like to say I was born with ink in my veins. My parents read to us and instilled a love of story in me. I couldn't wait to learn to read and to write my own stories! As soon as I could form letters, I probably drove my mom and dad crazy asking, "How do you spell…?"
I continued reading and writing every chance I got through school and went on to get a degree in journalism at the University of Montana in Missoula. I wrote for The Missoulian newspaper for several years, freelanced for other newspapers and magazines, and then in the mid-'90s, tried my hand at a novel. I was hooked on fiction.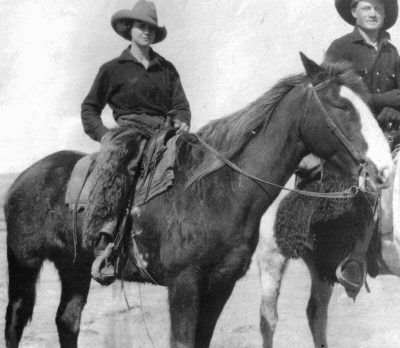 My grandmother was a cowgirl—a real one, one who not only rode horses, but also rode bucking stock in rodeos in the 1920s & '30s. After she died of a brain aneurysm at age 57, my dad and I were going through some photo albums. He remarked, "Did you know your grandma rode in rodeos?"
My twelve-year-old mind perked right up. "Wow, no, I didn't know that! How cool!" I knew my grandma was no "sit-in-the-rocker-knitting" kind of grandmother—she preferred the back of a horse to a dustmop any day of the week. I filed that tidbit of information away in the back of my brain until many years later, when I was ready to write books.
My first published novels were based on my rodeo-riding grandma. What began as an offhand comment by my dad has resulted in my publishing my 10th book this year. Little did I know!
I have three books based on Grandma "Tootsie": Cowgirl Dreams, Follow the Dream, and Dare to Dream. My next two novels are based on my mom, who emigrated from Germany after WWII: Seeking the American Dream and Finding True Home. My latest trilogy is a contemporary series, strictly fiction, but the character is the great-granddaughter of my original cowgirl character: Rescuing Samantha, Rescuing Hope, and Rescue Ranch Rising.
I like what someone said about Reba McIntyre: "There's something about a cowgirl—she just knows how not to give up." I like to think I have some of that cowgirl perseverance in me!
I'm still "just an urban cowgirl," but I love to write about horses and the women who love them.
About Heidi
Heidi is a member of Women Writing the West, Professional Writers of Prescott, and Arizona Authors Association, is also a manuscript editor, and teaches local memoir and fiction writing classes.
She is an avid reader of all kinds of books, enjoys the sunshine and hiking in north-central Arizona, where she writes, edits, and teaches memoir and fiction writing classes.
Heidi is also the "human" for a finicky feline, and describes
herself primarily as a "cat herder."
Connect with Heidi