I hate flying! But I pray, cowgirl-up and do it anyhow. Not long ago, I found myself sitting in the Spokane International Airport typing away on my laptop, working on my new book, keeping my attention on all things grounded. Like not flying. I was happy with what I'd been writing thus far when the phone rang. My husband was on the other end, emotion slathered his voice. He'd called to inform me his mare, Zoe, had colicked and died. He's found her under the overhang that morning when feeding. Zoe was one of those horses anyone could ride and we did––from my seventy-nine-year-old father to our three-year-old granddaughter.
We talked for a bit and I assured him it was not his fault. Colic is a tricky symptom that has hundreds of causes. One can never really pin-point any one culprit. But once the horse lays down and rolls, the gut twists and it is a very painful death. We hung up and I began to sob. Big Zoe was only fifteen. She was full of life and had recently packed out an elk for the family. She had a heart of gold, a kind eye and loved putting smiles on children's faces after givingthem an easy ride. She would lower her head and let them love on her nose and feed them treats, always gently taking them from extended, tiny fingers.
I was on my way to my youngest son and his wife's new house south of Seattle. They'd moved over to the coast early fall as my son landed a job. I was thankful, knowing I'd be with family when I was to be absent from my husband under such sad circumstances. Joe, my husband was able to bury her with our backhoe and head back to hunting camp with my son and father. Both of our hearts were heavy, but knew we needed to make the best of our plans with family. After crying for an hour, I wiped my tears and boarded the plane.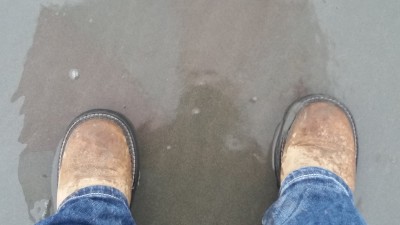 My daughter-in-law Tiffany picked me up from the Seattle Airport and the wave of Seahawk gear, yes I to was wearing my Seahawks t-shirt, and we headed south. I tried to look at Facebook posts here and there, but the comments filled with love, prayers and support quickly brought tears to my eyes, so I just left my phone in my purse. I was going to see my son, in his new job as a first time middle school science teacher and my goodness, I was not about to feel sorry for myself and blubber. This was my time with my kids in their new surroundings.
We arrived at the Chehalis Middle School, signed in as visitors and nabbed my son for lunch. As we walked into his classroom, did I mention it was his classroom, a sense of pride filled me up like a warm piece of apple pie topped with ice-cream.
After a quick lunch at a quaint little café, we headed back to the science classroom where I met another seasoned teacher across the hall and some of his students. One thing Marshall and I share is a love for middle schoolers. And guess what was all over school, you got it….Seahawk gear. Did I wear mine thinking this through? No. I just thought it would be fun. Never did I realize the depth of Seahawk pride on the west side. I knew the east side had it, but the west side lived and breathe Hawks. Tiffany and I sat quietly in the back at an empty table. Curious eyes glanced at us and finally one boy asked who the two ladies were in the back. Several said, Mrs. Peone, obviously not referring to me, but my daughter-in-law! We looked at each other and giggled.  Marshall replied that we were both Mrs. Peones, one was his wife and the other his mother. What a fun greeting and fresh start to a lovely weekend.
The next day, we woke to a Washington west coast downpour. I wished I'd had rain boots rather than cowboy boots. After a breakfast of pancakes, eggs and bacon, we gathered dogs and raingear and headed to Hoquiam. We dropped Tiffany off at her parents, which was a treat to see their beautiful home and family, for a cousin's baby shower. Marshall and I then drove to the Quinault Reservation and ate lunch at the Quinault Lodge and what a treat that was, peering at the coastal rainforest, hiking to the largest red cedar in the United States, and touring the ocean coastline south to Ocean Shores. Playing in the Pacific Ocean with cowboy boots on in the rain, one son and two granddogs was one of the best day's I'd had in a while.
I awoke Sunday morning to sunshine! After an uplifting worship service at the Chehalis Community church, we ate lunch and went on a tour of downtown Chehalis and Centralia. The weather started out nice and yes, turned to rain, which made my craving for gluten free apple pie and hot cocoa that much stronger. We found just that at Jeremy's Farm to Table by the railroad tracks. Live music and all. The restaurant felt like an old Railway station, open with original brick building and wood floors.
That night I played The Settlers of Catan for the first time. My new second favorite game. What a perfect weekend, even though the death of a beloved horse and family member swirled in the back of my mind.
Once home, I strolled down to the corral. There was a hollow spot in my heart as one of us was missing. I shed some tears, then hugged my geldings. And thought how thankful I was she'd been a part of our life. Our life and so many others. What a blessing.
A horse gallops with his lungs,
Perseveres with his heart,
And wins with his character.
– Tesio